Croque Madame with Arugula Salad
A really tastefull , easy and cheap croque madame with arugula salad to make.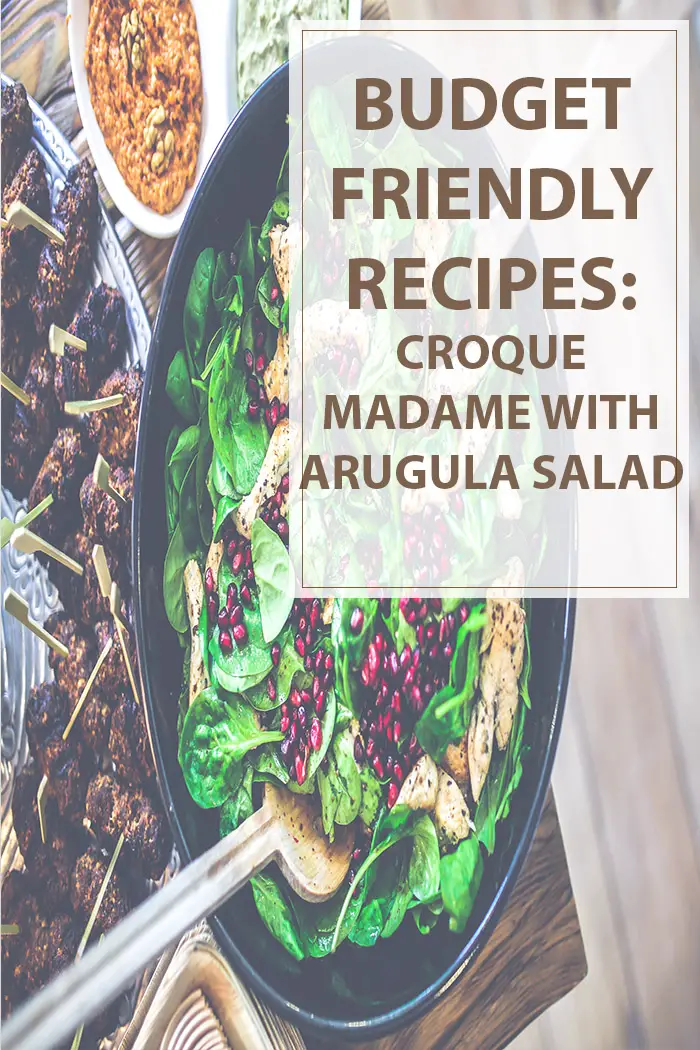 See Also
Croque Madame with Arugula Salad Ingredients
Nonstick cooking spray
1 Tbsp olive oil
1 Tbsp flour
1 cup fat-free milk
1/16 tsp (pinch) nutmeg
1/4 tsp ground black pepper
1 Tbsp Dijon mustard
1 cup packed baby spinach
4 slices hearty whole grain bread (1.5 oz per slice)
8 slices (8 oz) no-salt-added, oven roasted deli turkey (such as Boar's Head)
2 slices (1.5 oz) reduced-fat Swiss cheese
4 eggs
2 cups arugula
1 Tbsp balsamic vinegar
Croque Madame with Arugula Salad Instructions
Preheat oven to broil. Coat a baking sheet with cooking spray. Set aside.
Add olive oil to a saucepan over medium heat. Add the flour and cook, stirring constantly, for 2 minutes. Add the milk while whisking. Add the nutmeg, pepper and Dijon mustard. Bring to a boil, then reduce to a simmer for 3 minutes. Add the baby spinach and cook until wilted, about 3 minutes.
Lightly toast the whole grain bread. Lay the bread slices on the prepared baking sheet. Top each bread slice with 2 slices of turkey, 1/3 cup of hot spinach cream sauce and 1/2 slice of cheese. Place under the broiler for 3-4 minutes or until cheese melts and starts to lightly brown.
Coat a nonstick sauté pan with cooking spray. Fry eggs on each side until yolk is just set or reaches an internal temperature of 145° F.
Remove bread slices from the broiler. Top each with a fried egg.
In a bowl, toss the arugula with the balsamic vinegar. Place 1/2 cup of dressed arugula on top of each sandwich.
Recipe Cost: $7.80
See Also:

Choices/Exchanges: 1 1/2 Starch, 4 Lean Protein, 1 Fat