Free Knitting Pattern Komfort Kover!
A easy and fun free knitting pattern !! If you tired to knit for you or your friends try knitting something for your home. This knitting pattern is something special for your couch. Use Joann's Sensations Rainbow Classic yarn to get this awesome look. Also this knitting pattern is so simple to knit , you can watch tv and knit in the same time without losing your place or make any mistakes. Plus the dropped stitches will give you a great look.
Free Knitting Pattern Komfort Kover Materials
2 strands of 5 weight yarn ( You can use Joann's Sensations Rainbow Classics)
2 full skeins of the Neutral Rainbow Classis ( 615 yards per skein)
Size US 15 circular needle to accommodate the large number of stitches.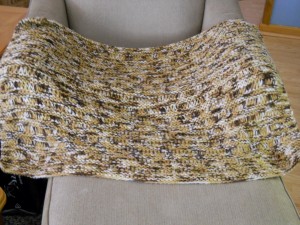 Thanks for reading. Don't forget to show us some love by sharing this awesome free knitting pattern we provided for you 🙂
See Also