Salsa Chicken Quick Recipe
Salsa chicken is one of the quickest recipes out there. Here are some extra tips. Instead of using salsa, you can use 1 can of diced tomatoes with green chili. Put the entire package of taco seasoning (low sodium variety) in a Ziploc bag, and dredge the chicken breasts. Next,  poured some of the liquid off the tomatoes into the bottom of an 8×8 glass baking dish ( instead of greasing). Then place the chicken breasts in the dish, and add a little fresh cracked pepper, and topped them with the tomatoes, and a dash or two of chipolata tobacco sauce. Bake in a 400f oven for 30-35 mins- or if you cook with Science…temp to 140…carryover heat will finish it off) Remove from oven. Sprinkle with cheese and place back in oven for 3 mins or till cheese has melted. After your cheese is melted, take it out of the oven and remove it from the baking dish. Cover with foil and let it rest for about 10 minutes. This lets all the juices reabsorb. Top with a dab sour cream. I serve this usually with Spanish rice, Mexican style corn , and a salad.If you are a vegetarian no worries here is one of the best vegetarian cooking recipe out there.Enjoy.
Salsa Chicken Quick Recipe Ingredients
4 skinless, boneless chicken breast halves
4 teaspoons taco seasoning mix
1 cup salsa
1 cup shredded Cheddar cheese
2 tablespoons sour cream (optional)
See Also: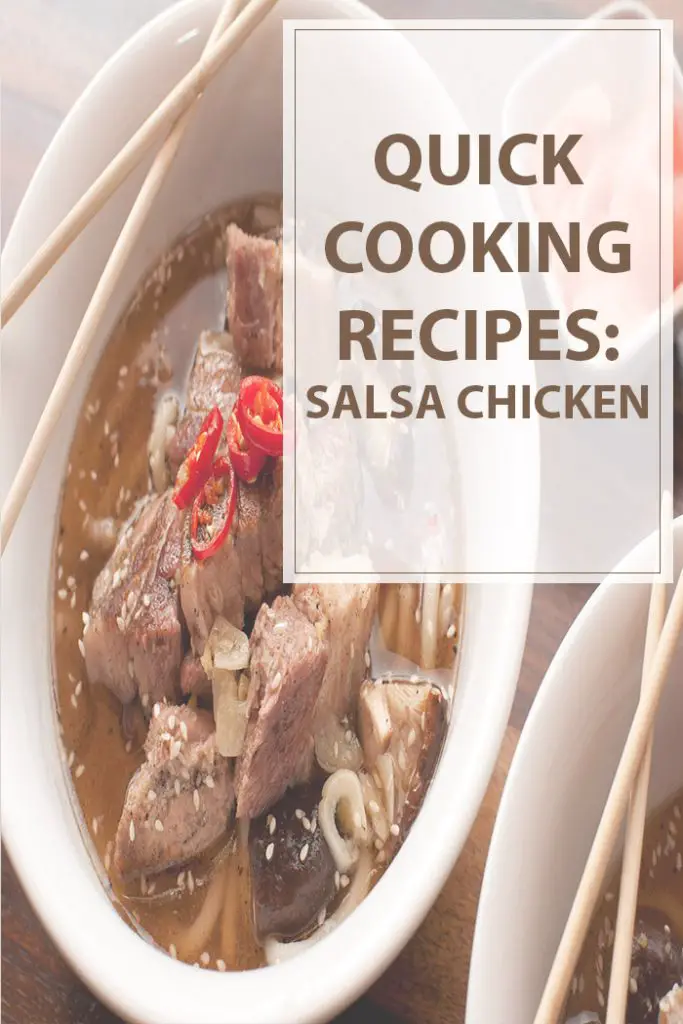 Salsa Chicken Quick Recipe Instruction
Preheat oven to 375 degrees F (190 degrees C)
Place chicken breasts in a lightly greased 9×13 inch baking dish. Sprinkle taco seasoning on both sides of chicken breasts, and pour salsa over all.
Bake at 375 degrees F (190 degrees C) for 25 to 35 minutes, or until chicken is tender and juicy and its juices run clear.
Sprinkle chicken evenly with cheese, and continue baking for an additional 3 to 5 minutes, or until cheese is melted and bubbly. Top with sour cream if desired, and serve.
See Also: