Knit Beanie Basic Mens
If you're looking for a knit beanie basic mens knitting pattern, that is good for beginners and worked up on two needles, you have come to the right place. It's the perfect gift for your friend or a loved one. The colour in the image is the best choice for something classic and simple , but you can use any colour you want. Enjoy knitting and have a nice day!!
Knit Beanie Basic Mens Materials
Size 10 needles
Medium weight worsted yarn *note that if you use a thicker yarn, adjust your needle size
Tapestry needle
Tape measure
Abbreviations:
K-Knit
P-Purl
K2TG-Knit 2 together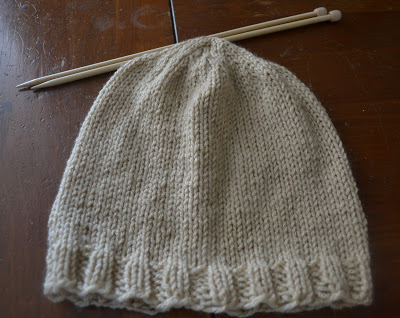 Knitting Instructions
Ribbing
CO 72 (this makes a large men's hat.  Reduce the number of CO stitches in multiples of 2 to customize the sizing) 2X2 ribbing for 5 rows, or about an inch or so (for a longer brim, knit more rows of ribbing):
Row 1: *Knit 2, Purl 2* (*repeat across)
Row 2: same as row 1
Body of the knitted hat
Once your ribbing is complete, you will begin the body of the hat:
Row 1: Kniteach across
Row 2: Purl each across
Continue these two rows for approximately 8 1/2″.  For a longer hat, or one with a folded brim, add a few inches to this. UPDATE: this makes it long enough for a fold over brim.  If you want it without that option, lessen this to about 7″.

Knitting the "Crown" form
Now, you will begin the decreases to form the crown.
Row 1: *Knit 2 Together, Knit 2* repeat across
Row 2: Purl each across
You will continue this until there are 12 stitches left.  With a tapestry needle and a long tail, weave the needle through the 12 stitches, being careful not to forget any. Remove the knitting needle and pull tight to close the knitted hat.  Do not cut the tail, as we will be using this to seam up the side.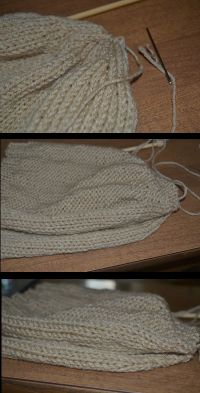 Fold the hat with right sides together, so the outside of the hat is on the outside and line up the edges.
Now you are going to seam up the edge.  Insert the needle into both layers of the knit hat, pull tight (but not so tight that it makes the seam uneven), bring the yarn in front of the work, and into the next stitch in the seam. There are a lot of great YouTube videos out there on how to seam up your knitting work.
The mattress stitch method
Here is a Youtube video for mattress stitch method, is a bit more challenging but makes an invisible seam.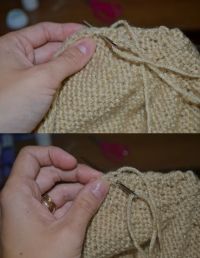 Once you finish your seaming, tie the seaming yarn to the original tail of the work and weave in the edges.  Turn your work so the right side is out.  Your seam will look something like this: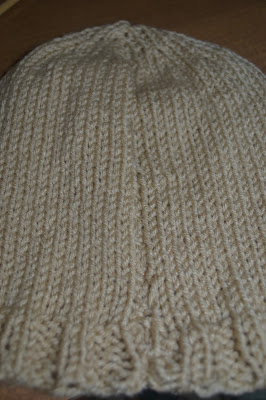 Congratulations! You've just completed a basic knit beanie, perfect for any man in your life! Whether it's for a special occasion or just a cosy addition to their wardrobe, this knitted beanie will be sure to provide warmth and comfort. With the right combination of skills and creativity, you've created a great piece of knitwear that will be cherished for years to come. Enjoy your new unique men beanie!
See Also: