Knitting Patterns For Hats
For the frigid cold temperatures you will need a warmer knit hat. When  those frigid winds ripped through your current hat and nearly froze your ears. Immediate action needed to be take and that meant knitting up a warmer hat. Have fun with this simple knitting patterns for hats.
These were knit in the round which is great for hats because when once you're done knitting, you're done with the hat. No need to sew up seams or anything. I knit the purple one first on US15 circular needles first. It came out fine. I didn't make it long enough so I feel a bit like Marvin in it (as in themartian). The pink/white version was longer so its a bit more slouchy and I think fits better. I started the second one on US13 circular needles then switched to the 15′s after the ribbing which is definitely the way to go. Using the smaller needles for the ribbing makes it tighter around your head.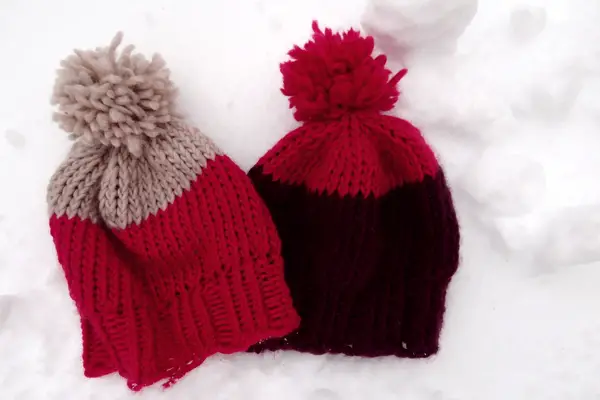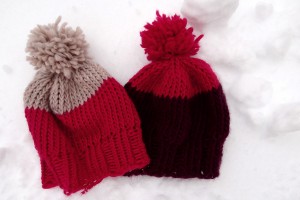 The pom poms are totally optional. So I think if you make this hat, you should add the pom pom.
Supplies:
16″ US 13 circular knitting needles
16″ US 15 circular knitting needles
4 Double Pointed Needles (dpns) (I used size 10 because that's what I had)
tapestry needle
scissors
2 skeins (1 in each color) thick yarn – I used Bernat Roving Wool. You could make this hat in 1 skein, but since there's two colors, you'll need a skein of each.
Gauge: 10 stitches = 4″
CO=cast on
KFB=knit front and back (increase 1 stitch)
K1=knit 1
P1=purl 1
k2tog=knit 2 together (decrease 1 stitch)
Pattern:
CO 40 stitches on the US 13 needles. Join together being careful not to twist your stitches.
Ribbing (Color A): K3 P1, continue pattern around. Continue ribbing until hat measures 2.5 inches
Hat Body:
Round 1 (Color A): Switch to US15 needles. Increase to 60 stitches by KFB in first stitch, K1, repeat for whole round.
Round2-?(Color A): Simply knit in the round until hat measures 8″ from the bottom (including the ribbing)
Change colors (Color B) and knit for 2″ more.
Begin decreasing (Color B):
Round 1 (of decreasing): K2tog, K1 continue around (40 stitches)
Round 2: K2tog around (20 stitches)
Round 3: K2tog around (10 stitches) Transfer stitches to dpns
Round 4: K2tog around (5 stitches)
Cut yarn and thread onto tapestry needle. Thread through the remaining 5 loops. Bring the needle down through the center of the hat and pull tight. Knot.
Weave in ends.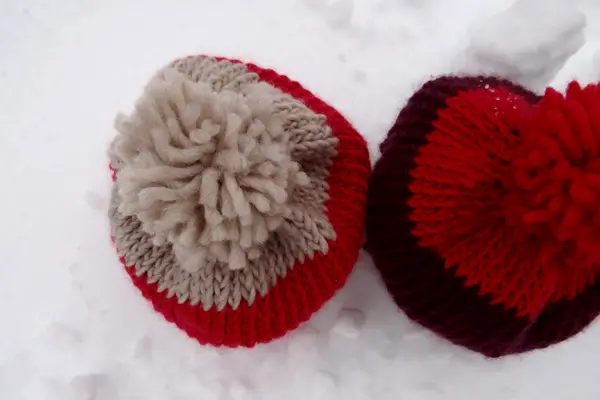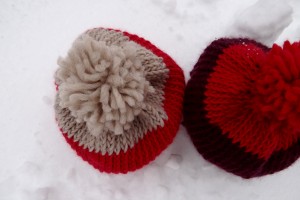 Add pom pom to top of the hat.
See Also