Lace Scarf Pattern
Lace scarf pattern is supposed to have a complicated knitting pattern of yarnovers and decreases. There's supposed to be a chart, and it should require immense concentration. This? Not so much. No yarnovers. No chart. The whole time you will work on this,you will get the feeling like you was cheating: getting a beautiful lacy effect without having to follow a pattern. You need to be able to remember two things: which side you're working, and the stitch pattern for one stitch.
Lace Scarf Pattern Materials
Materials
1 ball Karabella Mirage (72% kid mohair/28% polyamide; 50 g/1.75 oz, 245 yd/225 m)
Size 10 needles (6.0 mm) or size needed to get gauge
Gauge
Approx. 24 sts/14 rows in pattern stitch = 4″
(Gauge is NOT crucial to this pattern)
Finished dimensions
5″ wide by 72″ long
Lace stitch (mult. of 3 sts)
P3tog, leaving all 3 sts on left needle. Purl first st on left needle again (still leaving all sts on left needle). P first two sts on left needle together. Slip all 3 sts off left needle.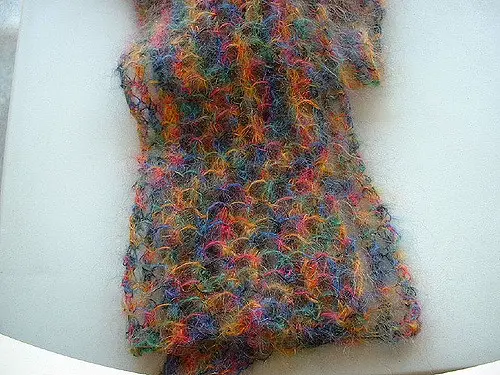 SEE ALSO:
Lace Scarf Pattern Instructions
Cast on 30 sts.
Row 1 and all RS rows: Work cheater's lace stitch across the row.
Row 2 and all WS rows: P all sts.
Work to desired length. BO all sts. Weave in ends and block if necessary.