Scarf Knitting Pattern Electric Sunrise
An easy scarf knitting patterns for a great-looking scarf. The Electric Sunrise Scarf is a colourful scarf created with Crystal Palace Mini Mochi to give you a pretty awesome look. This knitting pattern is easier than it looks so don't be afraid to gather your materials!! The pattern is a 2-row repeat that features a garter stitch and the basic skill of increasing and decreasing. The increases and the decreases will create a beautiful zig-zag style. Also, the garter stitch gives the scarf an almost beaded texture. Wear it every day with matched clothes and you will surprise everyone.
Scarf Knitting Patterns Level:
Easy (garter stitch, increases, double-decreases)
Knitting Patterns Size:
52″ long x 7″ (12″) wide
(Sample shown in 12″-wide version)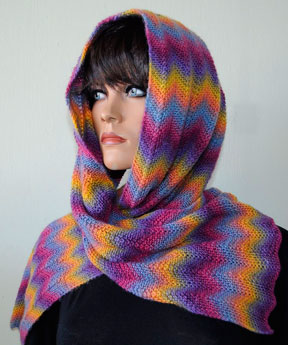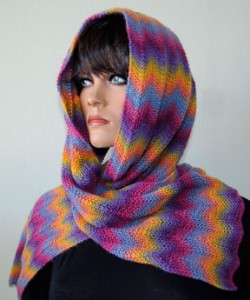 Materials:
3 (4) balls of Crystal Palace Mini Mochi (shown in 336 "Festival")
Crystal Palace Bamboo 9″ single-pointed needles in US size 5 (or size needed for gauge)
Tapesty needle
Gauge:  31 sts=4″ over pattern
Abbreviations:  CO– cast on; k– knit; kfb– knit in the front and the back of the stitch to increase by one; p2sso- pass the two slipped stitches over; sl– slip; RS– right side (outside of work); st(s)– stitch(es)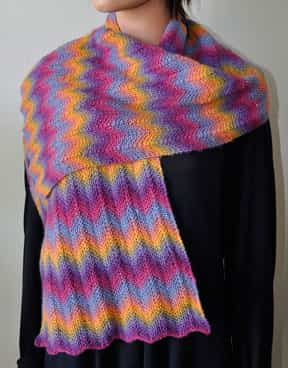 Scarf Knitting Pattern Electric Sunrise Instructions
Cast on 54 (93) stitches.
Row 1 (Right Side): Knit.
Row 2 (Wrong Side): Knit 1, *knit front and back (kfb), knit 4, slip 1 knitwise, knit 2 together (s1 k2tog psso), knit 1, pass 2 slipped stitches over (p2sso), knit 4, kfb; repeat from * to the last stitch, knit 1.
Repeat these two rows until the piece measures 52 inches, ending with a Right Side (RS) row. Bind off (BO) loosely.
See Also